On Duty Gear's "Bella" in an Armor Express K-9 Police Dog Carrier
Here are some pictures we just took of our canine employee Bella, a 130 lb Bull Mastiff, decked out in an Armor Express K-9 Armor Carrier. She has been a great sport with the sizing, wearing and picture taking. We are planning on bringing her to some departments and shows in the future to showcase what a great product Armor Express makes to help protect our canine officers.
About the Armor Express K-9 Canine Body Armor Carrier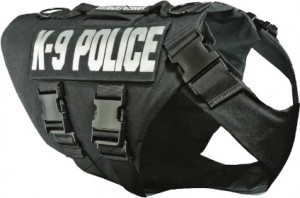 We've got your K-9 partner covered with the new and improved custom sized K-9 armor. With improved comfort, mobility and reduced weight, the new K-9 amror offers outstanding functionality.
The K-9 features a robust crowd control handle, two 2″ D-rings for short or long leads, an elastic pocket for flashlights and tracking devices, as well as an optional left and right ID tags.
Made from durable nylon material, the K-9 has six 2″ buckles for ease of getting into, adjusting and removing. The K-9 provides maximum coverage to the vital organs, and even has a rear extension panel to accommodate longer torsos.