Pics and Videos of the new SIG Sauer P320 at the 2014 SHOT Show
Tony Caspers from SIG Sauer gives an overview of the P320
Tony showing the positive trigger reset of the SIG Sauer P320
Video of Paul Riddell giving his opinion on the P320
Official video from SIG Sauer introducting their P320
The SIG Sauer P320 is a polymer-framed service pistol designed from the ground up with the input of law enforcement officers. The result is the most operator-safety focused striker duty pistol on the market today.
Taking into account the concerns of military and police training officers, the P320 provides an enhanced level of safedty not found on most modern service pistols. Unlike its competitors, the P320 does not require the operator to pull the trigger nor use a special tool to takedown the firearm for cleaning or routine maintenance.
"One of the main points that kept coming up with trainers was the risk of accidental discharge inherent in today's striker fired service pistols," said Jeff Creamer, SIG SAUER Director of Product Management. "Unless they require a special takedown tool, other pistols require the operator to pull the trigger before disassembly. Classic SIG SAUER pistols have never required this, and we made sure the P320 didn't either."
Featuring a modular grip frame and removable fire control assembly pioneered by SIG Sauer, the P320 is customizable to any hand size or duty requirement. The P320 can quickly be converted from a full-size to a carry pistol. Slide and barrel conversions allow the P320 to change between calibers and barrel lengths as well. THe P320 will be immediately available in 9mm, .40S&W and .357SIG, with .45ACP coming later in 2014.
With a partially pretentioned striker, the P320 has a short, crisp trigger pull with a quick, pronounced reset right out of the box. The P320 comes in two trigger variants: a standard trigger and a tabbed safety trigger for specificc law enforcement clients. Featuring the SIG SAUER internal safety system, the P320 has no external safety or decocking lever to snag or hang up on the draw. A frame-mounted thumb safety version will be available for law enforcement needs. SIGLITE night sights come standard, and reversible magazine release makes the P320 completely ambidextrous.
Whatever the requirements, patrol duty, competition, time at the shooting range, or concealed carry, the P320 brings SIG SAUER's legendary reliability, durability and quality to the polymer-framed, striker-fired duty pistol.
SIG Sauer P320 Full Size
Caliber: 9mm, .357SIG, .40S&W
Action Type: Striker
Trigger Pull: 5.5 – 7.5 lbs
Overall Length: 8.0"
Overall Height: 5.5"
Overall Width: 1.4" (Medium Grip Module)
Barrel Length: 4.7"
Sight Radius: 6.6"
Weight w/Mag: 29.4 oz
Mag Capacity: 17 Rounds (9mm), 14 Rounds (.357SIG, .40S&W)
Sights: SIGLITE® Night Sights
Grips: Interchangeable Polymer Grip Module
Frame: Finish Stainless Steel
Slide: Finish Nitron®
Accessory Rail: M1913 Rail
Features: Interchangeable Grip Modules, Sizes, and Calibers
MSRP: $713.00
SIG Sauer P320 Carry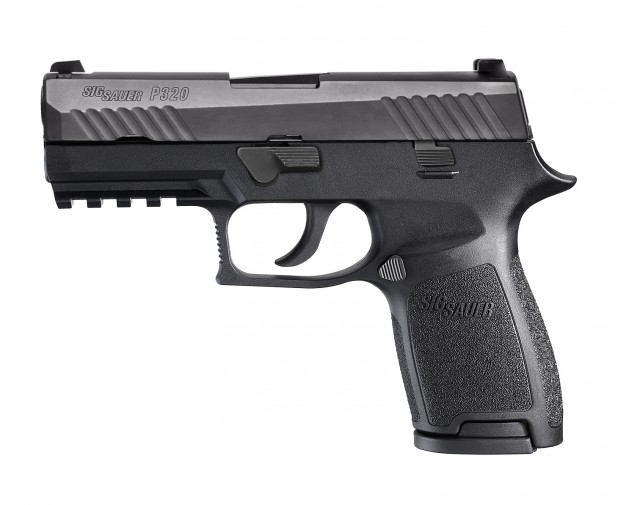 Caliber: 9mm, .357SIG, .40S&W
Action: Type Striker
Trigger Pull: 5.5 – 7.5 lbs
Overall Length: 7.2"
Overall Height: 5.1"
Overall Width: 1.3" (Medium Grip Module)
Barrel Length: 3.9"
Sight Radius: 5.8"
Weight w/Mag: 26.9 oz
Mag Capacity: 15 Rounds (9mm), 13 Rounds (.357SIG, .40S&W)
Sights: SIGLITE Night Sights
Grips: Interchangeable Polymer Grip Module
Frame: Finish Stainless Steel
Slide: Finish Nitron
Accessory Rail: M1913 Rail
Features: Interchangeable Grip Modules, Sizes and Calibers
MSRP: $713.00