Armor Express' new Bulldog Carrier at the 2014 SHOT Show
We interviewed Adam Spinniken from Armor Express at the 2014 SHOT Show about their New Bulldog Armor Carrier.
The BulldogTM was designed for Corrections Special Operations Units but still offers usability for other SWAT personnel. The BulldogTM is designed around USSOCOM'S BALCS patterns that allow 4 main sizes. The vest is intended to be worn tight on the body for improved mobility and comfort. The vest consists of Front and Back Torso components, left and right shoulder components. The vest is NOT quick release-able and it was designed specifically for thinner conjunction plates. The integrated Dynamic Cummerbund System can be adjusted / removed with minor maintenance. The shoulder straps are fully adjustable to accommodate all shapes and sizes. The vest also features a built in tether attachment for emergency rescue situations. A removable MOLLE panel attaches to the rear outer carrier for quick mission adjustments.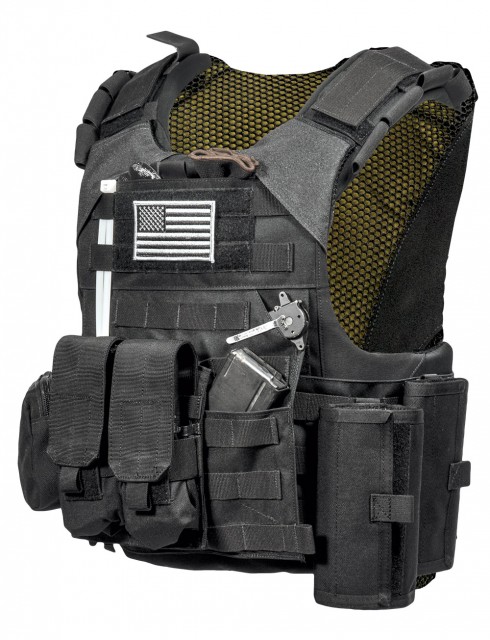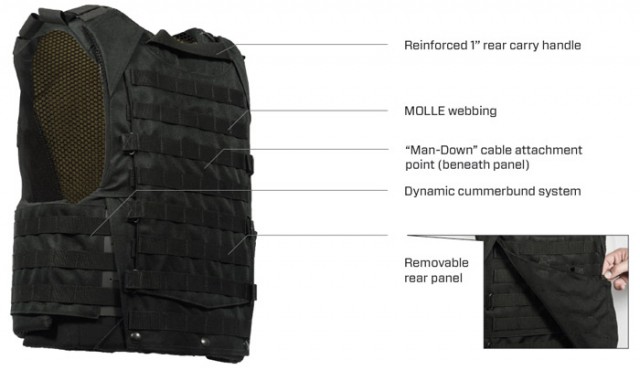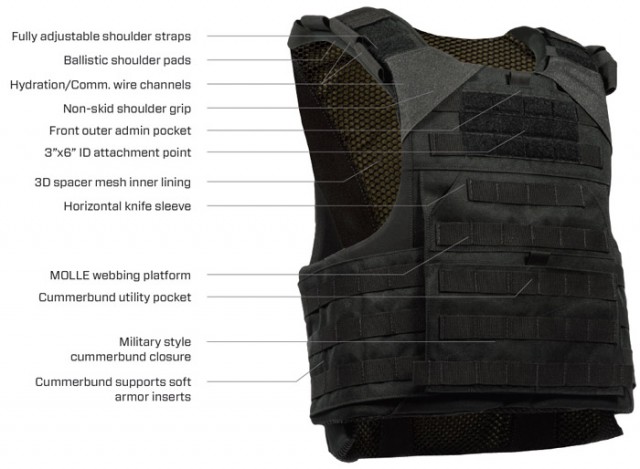 Armor Express Bulldog Carrier Features:
Bottom loading rifle plate pockets on front and rear of carrier; accommodate NIJ threat level III In-Conjunction-With (ICW) hard armor rifle plates
Dynamic cummerbund for added comfort, chest expansion, and mobility
Over the shoulder ballistic protection
Removable rear panel for quick mission load-out adjustments
Fully adjustable shoulders and waist
MOLLE webbing for more modularity and attachments
"Man-Down" cable attachment point for hands-free extraction
Cummerbund accommodates soft armor side protection
Reinforced 1″ rear carry handle
Horizontal knife sleeve on front of carrier
Hydration and communication wire channels on shoulder pads
3D spacer mesh inner lining for air channel and heat reduction
Ballistic shoulder pads
Front outer admin pocket for document or equipment storage
Non-skid shoulder grip to improve weapon mounting and control
Corrections Special Operation Units – The Bulldog includes features
specifically tailored to the field of corrections. The prominence of MOLLE
webbing, along with the aggressive structure of the vest make it ideal for
adapting to the demanding, versatile needs of corrections scenarios.

SWAT scenarios – The Bulldog can be used as a crossover vest for tactical scenarios. The Bulldog does not accommodate deltoid, groin, throat, nape, or collar armor – and the hard armor plate pockets only accommodate thin, ICW hard armor.