Code Red Headsets Full Line Now Available at On Duty Gear
Code Red Headsets, one of the premier lines of mic kits, earpieces and bluetooth adapters for police radios is now available for sale at On Duty Gear.
Code Red Headsets, along with it's parent company, has been supplying 2-way radio accessories to police, fire and tactical teams since 1999.  Relaunching as Code Red Headsets in 2007, they re-engineered their communications products to be even more rugged and stand up to the heavy use that is required in the police industry.  Code red specializes in Bluetooth wireless adapters, listen only, single/2-wire mics, tactical/military and all replacement items.
Here are a few of Code Red Headset's great items:
Code Red RHP Plus+ Hearing Protection
Comfortable and durable. This headset is able to amplify your conversations as well as shut out any sudden noise over 85dB. It comes with a 3.5mm AUX cable which allows you to listen to your iPod / Mp3 Player while working or shooting. The RHP Plus+ is perfect for use by shooters, law enforcement, manufacturing environments and special events.
Code Red Bluetooth Radio Adapters
Bluetooth adapter for 2-way radios. Clips directly to the audio accessory connector. No modification to the radio. Use with ANY Bluetooth headset. Works with Motorola and Kenwood radios and has optional Bluelink push-to-talk buttons.
Code Red Investigator and Sherlock Mic Kits
Choose from either the two-wire or one-wire lapel microphones. All of our microphones are made of highest quality materials and the cables are lined with strong kevlar. What makes these two microphones very popular is the sophisticated clear tube earpiece. The Investigator 2-wire microphone is most popular with law enforcement and security professionals while the Sherlock 1-wire microphone is most used in casino and hospitality industries.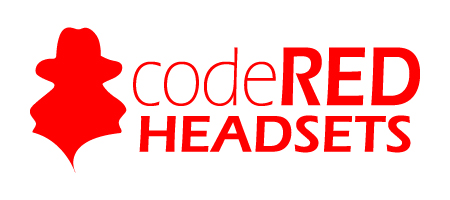 Code Red Headsets offers a wide range of radio accessories to meet any requirement. These include listen only earpieces, molded earpieces, surveillance microphones, ear microphones, shoulder speaker microphones, bluetooth adapters, battery chargers and even megaphones. Connectors are available for Motorola, Kenwood, Icom and Vertex radios.