New Mattress Bedside Holsters by Blackhawk and Mission First Tactical
Brand new from Blackhawk Tactical is their new Bedside Holster, which has a flat bad that holds it in between the mattress while allowing an ambidextrous, universal fit holster to hang along side the bed.  Mission First Tactical, a company that we will be carrying soon at On Duty Gear, also has a model that is slightly different but with the same overall concept.
Both mattress holsters MSRP for $34.99.
Blackhawk Tactical Bedside Mattress Holster – 40BH00BK
Ambidextrous design
Mounting platform slips between mattress and box springs
Holds pistol beside bed for rapid access
Universal-fit holster allows use with most handguns
Works with revolvers and semi-autos
HawkTex™ material on mounting platform provides added stability
Mission First Tactical In-Bed Firearm Carrier – MFTMHS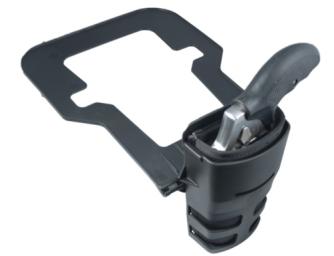 In a home invasion homeowners are awakened by a thief in their bedroom. Since that's where the jewelry, major valuables and you and your wife are. Even if the start of the home invasion happens elsewhere homeowners can stay in or retreat to the bedroom to call for help.
Fits most firearms with up to a 5″ barrel with or without a light/laser attached.
Designed to utilize the foam insert or your own holster with a clip.
2 piece design allows for compact storage.
Made in the USA