What is the Blauer ArmorSkin?
Blauer ArmorSkin
The ArmorSkin system is composed of the ArmorSkin vest, a performance uniform StreetShirt and an optional duty belt suspension system. When worn together, the ArmorSkin / StreetShirt combination is designed to look just like a uniform shirt. By integrating the uniform shirt and body armor it allows for a better ventilated and more comfortable option than wearing a carrier underneath your uniform. It also allows you to remove your armor while still wearing the StreetShirt.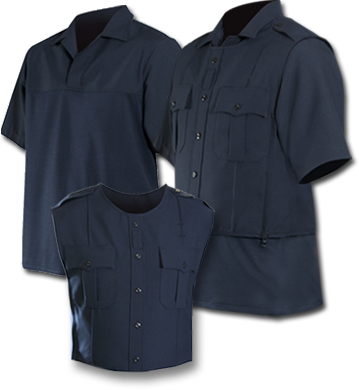 Adding panels to the ArmorSkin
Wool Blend
Poly Blend
Rip-Stop BDU
Rayon Blend
FABRIC
Wool Blend
Polyester
Poly/Cotton Ripstop
Poly/Rayon
BLEND
75% / 25%
100%
65% / 35%
80% / 20%
COLORS
Black, Dark Navy, Grey Heather, Silver Tan
Black, Dark Navy, French Blue Heather, Grey, Medium Blue, Silver Tan, Spruce, White
Black, Dark Navy, Olive Drab
Black, Dark Navy, Sheriff Brown
SUSPENDER SYSTEM (optional)
ArmorSkin Features
Your existing carrier fits inside the ArmorSkin vest. The ArmorSkin features easy shoulder and side adjustments for a universal fit, allowing your carrier to be fitted and worn the same way as it would underneath a uniform shirt.
ArmorSkin is designed to look like a Blauer Uniform Shirt using matching fabrics giving you a professional appearance while keeping your tactical advantage.
The ArmorSkin vest and StreetShirt use a breathable mesh and performance moisture wicking fabrics with a lightweight, comfortable build that dries quickly.
Using two-way zippers and stretch fabrics, the ArmorSkin vest offers quick donning and doffing, more coverage and advanced mobility.
The ArmorSkin Suspension System is a great addition to this system by helping to balance the weight of the duty belt between the shoulders and hips, allowing for a more comfortable fit for the duty belt. This also helps with improving circulation and reducing lower back and hip discomfort.
ArmorSkin Photos