Streamlight TLR-3 Weapon Mounted Light – Christmas Gift Idea #15
For our 15th gift idea, we have the TLR-3 Weaponlight by Streamlight.  The TLR-3 features a 110 lumen C4 LED light with up to 1.5 hours of runtime on a single CR2 lithium battery.  This version of the TLR-3 also comes with six different keys that allow it to fit almost any type of pistol (listed below).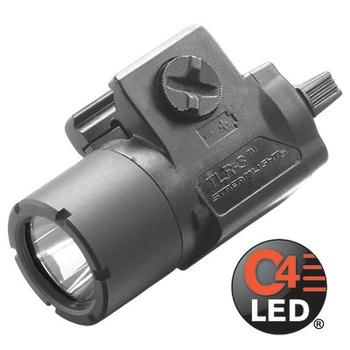 Price at On Duty Gear: $88.09
Price through 12/10/2012: $79.99
Streamlight TLR-3
C4® LED delivers 5000 candela peak beam intensity; 110 lumens.
Parabolic reflector produces a concentrated beam with optimum peripheral illumination.
Optimized electronics provide regulated intensity.
Runs 1.5 continuous hrs. to the 10% output level
Weighs 2.32 ounces (65.8 grams) with included battery
Length – 2.71 in. (6.88 cm)
Width – 1.18 in. (3.00 cm)
Height – 1.51 in. (3.84 cm)
Includes 6 interchangeable keys to fit a wide variety of weapons
Rail clamp designed to rapidly attach/detach from side of weapon. One handed snap-on and tighten interface keeps hands away from muzzle when attaching/detaching
Ambidextrous momentary/steady On-Off switch
Body constructed of impact resistant Engineering polymer
Face cap constructed of 6000 series machined aircraft aluminum with anodized finish
Borofloat high temperature glass lens
Waterproof to 1 meter for 30 minutes. IPX7 rated
Operating temperature: -40°F to +120°F.
Powered by one 3V CR2 lithium battery
Serialized for positive identification
Limited lifetime warranty
Assembled in USA
Key A: SPRINGFIELD XD (Sub Compact); SPRINGFIELD XD (Full Size Frame with two Grooves); WALTHER PPS
Key B: BERETTA 90two; BERETTA VERTEC
Key C:GLOCK; RUGER SR-9; SPRINGFIELD XD (Full Frame with one Locking Groove); SMITH & WESSON TSW (With Riveted Rail); SMITH & WESSON 99
Key D: KEL-TEC PF-9
Key E: BERETTA 92/96 TICK ADAPTER; KIMBER TLE/RL II; SIG SAUER GSR; SIG SAUER P200 SERIES (220, 2022, etc.); SMITH & WESSON M&P (All Sizes); SPRINGFIELD 1911 OPERATOR; 1913 PICATINNY RAIL
Key F: WALTHER P22
*This list represents only handguns checked by Streamlight. The TLR-3 will fit many other guns with Glock or Picatinny style rails.
On Duty Gear's 25 Gift Ideas for Christmas
As part of our 25 Gift Ideas for Christmas promotion, we are going to be posting a new gift idea for your favorite police officer, fire fighter, EMT or military service member each day starting from Black Friday (November 23rd) through December 17th.