Streamlight Stylus UV – Police Gift Idea #22
For our 22nd gift idea, we have the Streamlight Stylus UV.  Fake ID and currency are becoming more and more common, and it's important for an officer to be able to tell the difference.  Fake ID can mean the difference between handcuffs and freedom for the bad guy, while a good arrest can make your day.  The Stylus UV LED is a 'AAAA' penlight, but built with a 365nm ultraviolet LED for fluorescent detection of fraudulent documents and IDs.  It can run in momentary blink mode or a consistent 'on' state with up to 60 hours of continuous use on one set of batteries.  At under $20 and with it's small size (fits right in the pen pocket of the uniform shirt), the Streamlight Stylus UV LED makes a great stocking stuffer.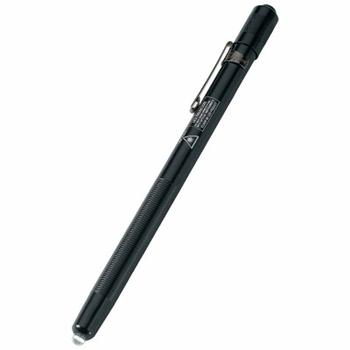 Price at On Duty Gear: $19.58
On Sale through 12/17/2012: $17.99
Features an ultraviolet light for fluorescent detection of fraudulent documents and for use in forensic investigations.
365 nm ultraviolet LED
High-intensity LED lasts 100,000 hrs.
Powered by 3 "AAAA" alkaline batteries
Runs up to 60 continuous hours
Momentary blink and consistent "on" modes
Serialized for easy identification
Pocket clip for easy access
6.21″
1.1 oz.
On Duty Gear's 25 Gift Ideas for Christmas
As part of our 25 Gift Ideas for Christmas promotion, we are going to be posting a new gift idea for your favorite police officer, fire fighter, EMT or military service member each day starting from Black Friday (November 23rd) through December 17th