Under Armour Speedfreek Goretex Trail Boot – Gift Idea #23
For our 23rd gift idea, we have the Speedfreek boots by Under Armour.  Also known as the Speed Freak or Speedfreak, these lightweight boots by Under Armour feature a waterproof Gore-Tex lining and a HeatGear OrthoLite sock liner, while maintaining enough breathability to keep your feet from overheating.  Even more importantly, they feel like you're wearing a tennis shoe!  And for protection they carry added ankle support, toe cap and enough traction to handle pavement or dirt with ease.  All this combined with the fact that they are made by Under Armour sealed the deal, makes this a great Christmas gift!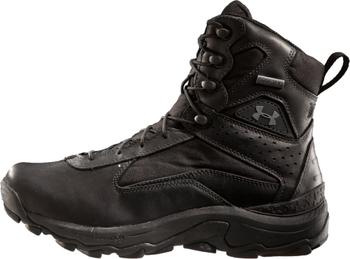 Under Armour Speedfreek
The Under Armour Speed Freak boot features a waterproof Gore-Tex lining with the UA Heatgear OrthoLite sock liner for a comfortable and dry fit. It also has extra ankle protection, a toe cap and traction that is great for pavement or dirt. The Speedfreek is available in black or multicam. Made by Under Armour.
100% Gore-Tex® waterproof lined keeps foot dry and comfortable.
Traction for on or off road terrain.
Ankle protection and support.
Speed lace upper.
Added toe cap for protection.
OrthoLite® sock liner with UA HeatGear®.
GORE-TEX®, Guaranteed to Keep You Dry®, and Gore are trademarks of WL Gore & Associates, Inc.
Boot Weight: 16.7 oz.
Boot Height: 7-inches.
Imported.
On Duty Gear's 25 Gift Ideas for Christmas
As part of our 25 Gift Ideas for Christmas promotion, we are going to be posting a new gift idea for your favorite police officer, fire fighter, EMT or military service member each day starting from Black Friday (November 23rd) through December 17th