Blackhawk's Tuckable Leather Pancake Holster at the 2013 SHOT Show
Blackhawk Tactical has a new tuckable holster that they were showing off at the SHOT Show.  It uses a mix of leather and Kydex and uses a three slot design for belt wear, which is removable for wearing inside the pants.  It also features tension adjustable retention and a trigger guard, along with a 'shirt shield' to help prevent sweat from getting near your weapon.  This holster definitely shows some promise.  We'll keep you update with a release date.  Most of the new Blackhawk holsters are coming out in the next few months, so I would assume this will be in the same time frame.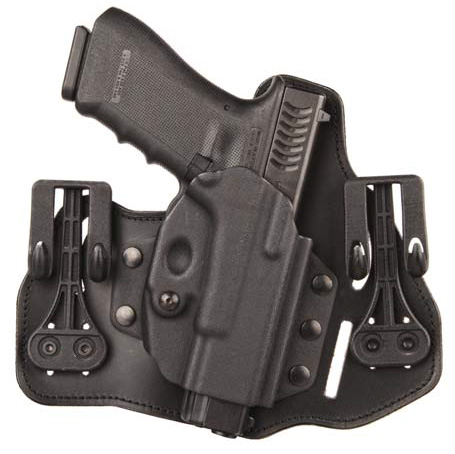 Constructed of premium leather and durable Kydex®, this holster combines the benefits of three holsters in one, giving you the option of inside-the-waistband, tuckable or belt-mounted wear. No matter how you choose to wear it, each design will contour to your body for exceptional comfort and concealment.
Blackhawk Tuckable Pancake Holster Features
Designed primarily for civilian and LE concealed carry
Made of premium leather for comfort and molded Kydex® to aid in re-holstering
Three-slot design for strong-side, behind-the-hip, appendix and cross-draw carry (for belt carry)
Injection-molded removable/angle-adjustable belt clips for cant and ride height adjustment (for inside-the-waistband carry)
Belt clips designed for traditional inside-the-pants wear or use as tuckable holster under shirt
Fits belts up to 1.75 inches wide
Tension-adjustable retention
Covered trigger guard for safety and security
Built-in shirt shield for added comfort against body and to keep sweat away from gun