Propper A-TACS FG, Ice Polo, Lightweight EMT Pant, UC Carry Outer – 2012 SHOT Show
Propper has relaunched!  Not really, but they have a lot of great new items at the SHOT Show.   Propper is becoming a major player in tactical apparel and we are proud to be associated with them.  The new A-TACS FG (pictured below) is incredible, the I.C.E. Polo, their new Lightweight EMT Pant, UC Carry Outer Shirt, new base layers, new tactical pants and shorts and more.
Propper A-TACS FG
Available at the end of March.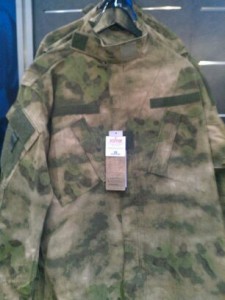 Propper Ice Polo
The ICE polo had a hidden button down collar and looked sweet.  It's also available in women's sizes.
Propper I.C.E. Description
Propper I.C.E.™ (Integrated Cooling Effect) technology breaks the mold of traditional wicking by increasing the fiber's surface area with a six-channel design, drawing moisture away from the skin and drying 125% faster than cotton and 30% faster than traditional polyester.  Because this technology is engineered into the fabric itself, the wicking properties will never wash out like chemically modified fabrics. The Propper I.C.E.™ Performance Polo keeps you cool and dry even during intense activity while maintaining a professional appearance on or off duty.
In addition to the cutting edge wicking technology, the Propper I.C.E.™ Performance Polo also integrates exceptional styling and functional features such as hidden buttons located under the collar for a pro to casual look, mic clips on both shoulders and a sunglass clip under the front buttons, gusseted mesh underarms for increased ventilation and range of motion, a longer tail that keeps the shirt tucked in and a tagless label in the collar for comfort.
Made with 94% polyester and 6% spandex, the durable interlock design resists snagging, pilling and fading even after frequent washes maintaining a comfortable fit and professional appearance. A DuPont™ Teflon® fabric protector repels spills and stains. Available in Black, Grey, LAPD Navy, Red and White in Men's sizes XS – 5XL for an MSRP of $39.99.
Propper Lightweight EMT Pant
We don't have a ton of information on this one, but it is really cool and scheduled to be released in June 2012.