Streamlight's new 3600 Lumen Portable Scene Light at the 2014 SHOT Show
We interviewed the creator of the scene light at the 2014 SHOT Show.  Here he shows how quickly the scene light can go from a handheld 3600 lumen light to a fully extended 6′ standing light.
One of the more popular items here at the SHOT Show is the new Portable Scene Light from Streamlight.  Rapidly deployed and easily stowed, the Portable Scene Light brings 3,600 lumens to your work area. With its narrow footprint and 72" extension pole, this light goes almost anywhere, from wide open places to tight, confined spaces.
Portable Scene Light Packed to Compact Size
Portable Scene Light Fully Extended (72 inches tall)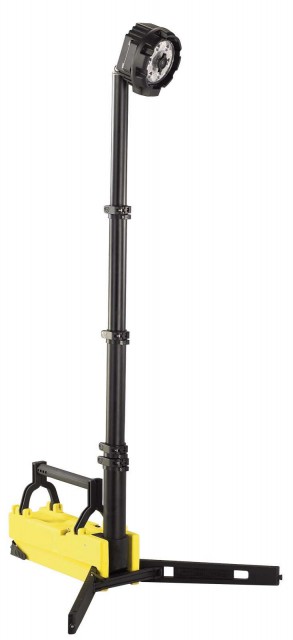 Six C4® LEDs and wide pattern parabolic reflectors produce a smooth flood pattern; optimized electronics provide regulated intensity
High for a super-bright flood beam: 3,600 lumens, 31,000 candela, runs 5 hours
Medium for an intense beam and longer run time: 2,400 lumens, 20,000 candela, runs 9 hours
Low for when a less intense beam is ideal and for longer run time: 1,100 lumens;
11,000 candela; runs 18 hours
Indefinite run time with 12V power cord
Sealed lead acid batteries rechargeable up to 500 times; 10 hour charge time
Batteries will continue to charge while operating directly from 12V DC power source – includes
10ft (3m) DC power cord
High-impact thermoplastic housing; weatherproof construction
25lbs (11.33kg) is easy to carry to work area and helps provide stabilization (in conjunction with stabilization legs) on uneven surfaces
Limited lifetime warranty