Lacrosse Z-Series Overshoes – Christmas Gift Idea #11
For our 11th gift idea, we have the Z Series overshoes by Lacrosse Footwear.  These overshoes are great for anybody on or off duty, as they fit over your existing shoes to protect them from weather and increase traction.  They give you almost all of the advantages of wearing boots while staying in the comfort of your existing footwear.  With winter closing in fast, Lacrosse overshoes are a great gift for when you are on patrol, to keep in your car for emergencies or for any occasion where you want to slip on some 'boots' for a quick errand outside.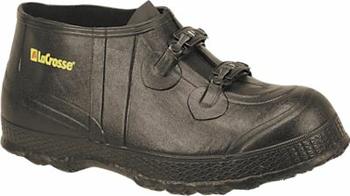 Lacrosse 266100 Z-Series Overshoes
The Z-Series overshoe rubber work boots are perfect for a muddy, messy jobsite. These overshoes are made of 100% waterproof, abrasion-resistant rubber and fit size for size over leather work boots. Traction comes from the self-cleaning chevron cleated outsole that won't track mud or dirt.
100% waterproof protection
Rust-resistant buckles offer more durability and product life
Chevron cleated outsole is ideal for sloshing through mud and water. The large cleats shed mud and debris while giving you great grip and traction.
5″ height
2.8 lbs per pair