Winners of the Under Armour Wounded Warrior Project T-Shirt Giveaway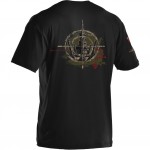 We would like to thank everybody who entered the giveaway.  We would also like to thank Under Armour for providing the t-shirts for the giveaway, and for their part in promoting the Wounded Warrior Project with their clothing line.
Most of all, we would like to thank the Wounded Warrior Project for providing such a great service to the wounded veterans that have served our country.
The Under Armour Wounded Warrior Project Battleship t-shirts are still available for purchase at Under Armour's Website.
And now, here are the winners:
Joseph Cross
Nicholas Steck
Louis Brown
Amy Clyne LaVora
John Knight
We have sent out emails to all the winners asking which t-shirt, sizing and shipment information.
Thank you to everybody who entered!