Blackhawk CQD Mark 1 E Knife – Christmas Gift Idea #25
BlackHawk has done a lot of things right, and one of them is their knife collection.  This is the perfect tactical and/or duty knife.  The CQD Mark 1 E by Blackhawk Tactical features a high strength button-lock mechanism, recessed seatbelt/cord cutter and a carbide glass breaker.  Then you get to the blade, which is made out of AUS 8A Steel, enabling it to get and keep a great edge… all built into a precision reinforced nylon handle mounted to a 420J stainless steel frame.  It's a little bigger than most duty knives, but you can feel the quality in your hand.  There's no way this one is going to wear out any time soon.  If the police officer you know carries a knife, this should be it!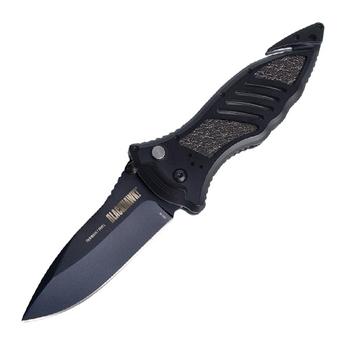 Our Price at On Duty Gear: $87.99
On Sale through 12/19/2012: $79.99
The award-winning CQD® Mark I™ is one of the most envied pieces of equipment in the tactical industry. Functionally identical to the original manual version of the Mark I™, the Type E features the same high-strength button-lock mechanism and secondary safety, recessed seatbelt/cord cutter, and carbide glass breaker. However, its handle is constructed of precision injection-molded reinforced nylon mounted to a 420J stainless steel frame. Its spearpoint AUS8A stainless steel
blade boasts improved edge geometry for increased cutting performance and a low-profile black PVD-coated finish. Now you can have all the performance of the original Mark I™ at a price that fits every budget.
SPECIFICATIONS:
• Blade Length: 3.750″/95mm
• Overall Length: 9.500″/241mm
• Blade Material: AUS8A stainless steel
• Blade Finish: Black PVD coating
• Edge type: Plain or partially serrated
• Handle Material: Injection-molded reinforced nylon with 420J stainless steel liners
• Pocket Clip: Right or left-side, tip-down carry
On Duty Gear's 25 Gift Ideas for Christmas
As part of our 25 Gift Ideas for Christmas promotion, we are going to be posting a new gift idea for your favorite police officer, fire fighter, EMT or military service member each day starting from Black Friday (November 23rd) through December 17th.