Bates Zero Mass, Annobon, Brigade and New ICS Delta Boots
Bates just sent us some information on their new product line, and they have some great boots coming out later this year.  Here is a breakdown of what you will be seeing soon:
Bates Zero Mass Footwear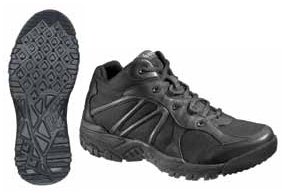 The Bates Zero Mass is a lightweight low ride boot that features the Wolverine Warrior abrasion resistant and quick drying leather, a 10 degree heal to toe angle to provide stability and reduce fatigue and is constrcuted from lightweight non-metallic components. Available in black and desert tan, we should have the Bates Zero Mass available for shipping within the next few weeks.
Wovlerine Warrior Leather / Nylon Upper
Moisture Wicking, Anti-Bacterial Aureright Insert
Cushioned Eva Midsole
Durable Rubber Outsole
Cement Construction
Bates Annobon V-Frame Boots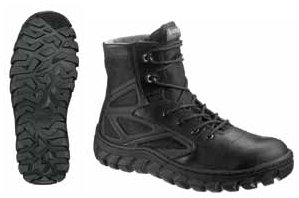 The Bates Annobon is being called the 'modern day jungle boots' by Bates, and the nickname is justified.  The Annobon features a lightweight and flexible exoskeleton with a perforated lining to give it a highly secure and stable frame with active ventilation.  Built using a permanent bonded outsole with 360 security stitch, the Annobon is a extremely durable boot that will outlast most of it's competitors.  The lightweight design also features non-metallic hardware for security friendly environments.  The Bates Annobon is expected to ship in October, and will be available in 6″ Black, 8″ Black and an 8″ Desert Sand Boot.
Leather / Nylon Upper
Breathable Mesh Lining
Removable Insert
Shock Absorbing Midsole
Slip Resistant Rubber Outsole
Cement Construction
Bates Brigade Boots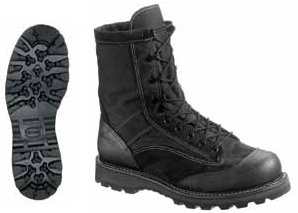 The Bates Brigade boots are a performance boot that is breathable, flexible and has a shock absorbing midsole and heel and toe rands for added protection.  The Bates Brigade will be available in Black, Sage, Desert Tan and Coyote Tan.
Wolverine Warrior Leather/Nylon Upper
Dri-Lex Moisture Wicking Lining
Durable Leather Toe and Heel Rand
Removable Insert
Shock Absorbing Polyurethane Midsole
Vibram 360 Degree Durable Rubber Outsole
Long Wearing and Flexible Direct Attach Welt Construction
Berry Compliant
Bates ICS Delta-8 Desert and Sage Boots
Bates is also releasing some new styles of the Delta 8″ boots with ICS.  They should be available for shipping within the next few weeks.
Rough Side Out Leather / Nylon Upper
Individual Comfort System Technology
Breathable Drilex Lining
Removable Insole
Durable Vibram® Mutant Rubber Outsole
Cement Construction
Made in USA